Sometimes you need to step back to get ahead
It happens all the time. A candidate has 8–10 years of experience doing something and wants to change into an entirely new role and new field. The requirements to compete for a senior-level role in the new arena are extremely high and impossible to match when there is no specific evidence of performance in the same function. Although the circumstances may seem the same, being capable and being competitive are two entirely different issues. Imagine a pole vault: you wouldn't walk up to it and expect to be able to leap over it. You would come from behind with a running start and make a leap. Sometimes it is simply necessary to step back to jump over.
Being told you are overqualified may boost your ego, but it does not pay the bills.
One of the pitfalls of stepping back is being perceived as overqualified. If you are thinking about changing directions, then avoid falling into the "overqualified" trap by working on being the "best qualified." Set yourself up with a strategy that will let you get your foot in the door in a position that provides the opportunity to show them what you can do. Start with a resume that exactly matches the employer's needs so that it is much more likely to fall into the "yes" pile. Overshooting a role with a highfalutin resume may miss the mark entirely. It often indicates you won't want to do the job they need to have done.
When your resume with the "exact" fit works and you get their call, stay true to the plan. If they contact you, then they thought you were viable or they wouldn't have wasted their time. Make sure you address their needs and avoid sabotaging yourself with stories that show much broader scope or higher responsibility. You may have many stories about accomplishments that could be impressive but may be irrelevant. Be careful not to assume that "more is better." Over talking a role will lead people to believe that you will get "bored."
Another issue with an entry-level role is that it may have significant administrative functions that you are not familiar with. If these functions are critical to the work needed, then you must be able to perform. To be offered the opportunity to get your foot in the door, you must be able to demonstrate competence. Don't get trapped in a conversation that leads you into how much you know about everything else in general, when you are not actually capable of doing what is needed. If you are technically challenged, this needs to be addressed long before you show up for an interview. If a role requires adaptability and proficiency with technology, you can't expect an employer to train you or provide an assistant to do the work.
If you get through the initial screening interview, congratulations! But you are not yet in the clear. As you head into an in-person interview, don't lose sight of your strategy. The person conducting the screening may have made assumptions. They may have been so excited about what you talked about that they may have missed the "details" about the actual functions of the job. (Interestingly enough, this happens from the other end of the spectrum, too. Under qualified candidates may get through a screening interview, yet, when faced with the tough questions from a hiring manager, are exposed for what they really don't know. I'll address that another time.) Make sure you are very clear about what the job entails, be able to show examples of work that indicate you can do it and that you are excited about getting started!
Once you are facing a hiring manager, you may be put through the wringer about whether you are certain you know what you are getting into. They may even test you by saying "I think you are overqualified." Or "I think you will get bored."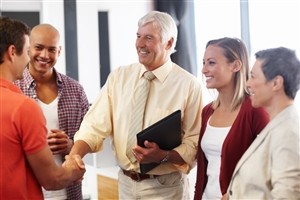 That doesn't mean they wouldn't hire you. It also doesn't mean you have to agree with how bored you would be. It's a test to see if you are willing to do what they need. If they lead with the "overqualified" statement, then smile and act pleased. Respond with "I'm so glad you think so! I think I am best qualified!" Then tell them why you can do what they need and how your experience can help you be faster in catching on, followed by how excited you are about working with them as you grow in this new direction. If you get all the way through this phase and are rejected with "we really think you will get bored," then you were probably not personally sold on doing the job before you went in to speak with them.
This strategy can work for people who are simply scaling back or have been laid off and need to begin again in a lesser role. Once you become clear about your strategy and leave your ego at the door, it is possible to step back, to move forward. Although the market is decidedly better than it was a few years ago, there are still people trying to get back on their feet. Desperation is unattractive. Getting really clear internally about why you need a particular role and then expressing to an employer why you will be of value to the company can make the difference between being offered the opportunity or not. You cannot turn down something that has not been offered. Being overqualified may feel good for a minute, but being unemployed and stuck without a paycheck can get old really fast.