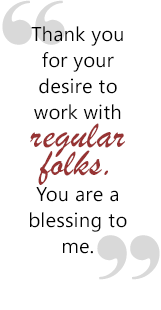 Sherri Edwards has led Resource Maximizer since 1997, empowering individuals to find rewarding work, and businesses to build better workplaces. Sherri's effectiveness can be attributed to her comprehensive understanding of the nuances of the job market and workplace from both the candidate/employee and employer perspectives. With that knowledge, she acts as a bridge-builder over the hectic waters that separate the two.
Prior to Resource Maximizer, she practiced what she now preaches today, having literally interviewed for hundreds of jobs and capturing over 35 positions in her lifetime. Within her vast applied work experience, she has managed staffing and recruiting agencies, and served as a hiring manager for a number of companies.
Sherri's extensive background also includes training for private, nonprofit and public organizations, including a national leadership training school providing adult continuing education focused on developing people and making government more efficient and effective. For ten years, she delivered the employment portion of the Transition Assistance Program for personnel leaving the military. And, as a trainer, was recognized as "Outstanding Trainer" by a national, minority owned training organization serving the Department of Defense and the Department of Labor.
Sherri's wisdom is sought after by many. She has appeared on television and radio, has been quoted and published in newspapers nationwide and through several online media channels. Most recently, Sherri was featured on Invincible Career where she explains the rewarding experience of 25 years of solopreneurship. Find the podcast here.