With Resource Maximizer, you can…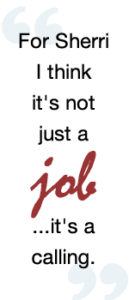 Develop a clear plan for achieving your career goals
Explore career interests productively
Change careers wisely
Find work quickly
Based in Seattle, Resource Maximizer helps both individuals and companies in their needs to find rewarding work and build better workplaces. Consultant Sherri Edwards offers you and/or your business her expertise through personalized coaching, workshops and seminars.
Individual Clients
Sherri empowers people to find and keep rewarding work for long term success. To do this, she helps individuals…
Tie professional goals to their current roles
Network effectively
Write resumes that get results
Nail interviews that result in offers
Negotiate compensation
Manage and overcome conflicts
Communicate more effectively
Overcome performance challenges
Sherri works with both individuals and businesses, which gives her tremendous insight into how to help each side of the employee-employer relationship. Individuals learn to provide what employers are looking for, and conversely, employers learn to provide what employees need. This inside perspective makes Resource Maximizer highly effective. Clients attest that this effectiveness has led to significant return on their investment (ROI).
Sherri's clients vary widely across all ages, backgrounds and cultures. She has worked with an equal variety of industries as well, including technology, telecommunications, financial services, healthcare, manufacturing, retail, non-profit, public employment and the military.
She has successfully guided individuals through transitions and career development:
Explorations of career interests, identification of career objectives, career planning
Re-employment
Networking strategy
Resume development
Interview preparation
Capturing the right position
Individuals and organizations benefit from one-on-one and group coaching on topics including career assessment, goal setting, managing multiple commitments, strategic networking, effective communication and overcoming conflict.
Sherri is located in the Puget Sound Region of Washington State, serving clients locally and nationally.