Be someone people are happy to refer
There are professionals who match people to jobs or business opportunities and others who connect people with similar interests. Professional associations or academic institutions may match mentors with mentees. All around us are opportunities to link people with people, or people to information. The success of these referrals is typically predicated on how much the referring party knows about each of the others.
Everyone wants to benefit from a referral in some way. Whether it is to gain new information, meet a key influencer, identify a useful service or secure new business, there is always something to be gained through an exchange of information. The risk involved to the referring party is whether the referred person represents them well or leaves a trail of evidence that questions the association.
Referrals can go south pretty quickly when the referred party fails to follow up or isn't prepared for the requested outcome. The following are tips to help you become the person people are happy to refer.
Be reliable. If you are asking for something from someone, make sure you have demonstrated that you can be counted on to follow through if they deliver. Show up on time for meetings and deliver what you promise, on time. Trust is built slowly with many people, and seeing is believing.
Show an interest in others. Ask questions to learn more about people's interests. Be an active listener. Make an effort to stay in contact with others. Send reminders and plan time to communicate with people you may not interact with regularly.
Be helpful. Find reasons why you CAN do something and fewer reasons why you can't. Go the extra mile to arrange a carpool for a group of people, drive someone to their door or make a phone call on someone's behalf. If you are requesting a referral to someone, make sure you are ready to return the favor in some way.
Be responsive. Follow up quickly when others reach out to you. Make sure you are available to respond quickly when you have reached out to others. Manage your communication devices and use them to stay on top of things. Don't let your email pile up and then use your full inbox as the reason you haven't responded to someone sooner.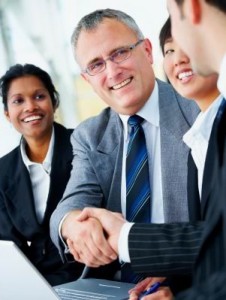 Prepare. If you are making a request for a referral, research the person you are asking to be referred to or the company you would like to learn more about. Plan questions for people that indicate you have done your homework. If you offer a service, prepare in advance and anticipate new business.
Walk the talk. Soft skills are hard to measure. If you are claiming to be a great communicator, project manager or meeting facilitator, make sure you are visibly illustrating those strengths. Volunteer or take the lead at events that will allow you to show people what you can do and how you do it.
If you are wondering why your phone isn't ringing with opportunities on the other line, take a look at how much effort you are putting into helping others get what they need. If you can do more for others, it is very likely you will be positioning yourself for others to be comfortable doing something for you. Are you modeling behavior that allows people to confidently refer you?