When the work from home debate is political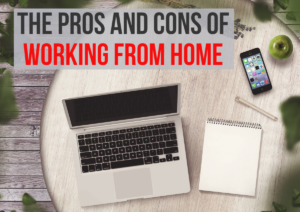 A feeling of déjà vu came over me during a debate about the merits of working in an office vs working from home. Although the issue is front and center today, it really isn't new. There were practical reasons to work from home 20 years ago that remain the same today.  And the same reasons against working from home are resurfacing.  On either side of this equation, there is evidence that this is more of a political issue than truly an argument about how working from home impacts productivity, performance or well-being. So here's my story.
Many (ok, many, many) years ago, I was the lone female and highest performer on an otherwise all male team. These were the days when men wore grey flannel suits to every event, no matter which season it was. It was when "corporate guys" all said yes to their leaders without giving a thought to why a request was unreasonable or outright foolish. Clearly, I was not one of those guys.
At that time, I was a Franchise Consultant for a well-known pizza delivery company. We initially all worked in a typical office setting inside the regional headquarters. This was home base for those of us who traveled to other states to visit this organization's franchisees. We were on the road and not in the office much, so most of our communication was by phone or email. At a point in the company's quick growth things changed. Those of us who traveled were summarily dispatched to work out of our homes.
When I wasn't gallivanting around a three-state area, I typically worked 10-12 hour days locally. I was the only person on the team that regularly sent email reports of what was happening in the field. On my rare visits to the regional office, (which took another couple of hours out of my day just in travel time) I used the copier, picked up mail, waved hello and left. They criticized me for not hanging around and socializing.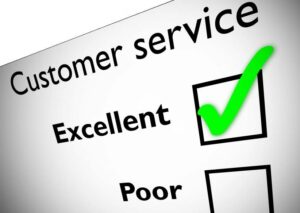 For almost five years, I was on the road for at least three weeks out of every month. When I visited my franchisees, I addressed their priorities. We met 1:1 to discuss their business goals, staffing issues, marketing approaches or sales results. I also helped with store grand openings or special events, and coordinated and delivered off site trainings. They shared their challenges (personal and professional) and disappointments. Although I only visited them in person once per month, we communicated frequently.  They regularly contacted me for help or advice at all hours of the day or night, and we spoke every Monday when they reported their sales results.
Most of the time my trips were solo, but at times our team had joint meetings or store tours planned and we traveled together. In addition to setting up the itineraries and handling our logistics for those team road trips, I baked banana bread and made sure everyone had beverages. The others contributed by arriving on time for our scheduled departure and driving.
The territory I covered spanned three states. When we made these visits, we were sometimes on the road for 4-5 hours before we reached our destination. After arriving, we embarked on a series of store visits that spanned another 4 hours. The next day there would be more visits, or another drive. The days were long and the destinations uninspiring. People were friendly, but it was apparent they viewed this group as "corporate". They sidelined their normal activities for a store visit. Their attention was on impressing "corporate". On rare occasions we might have had dinner with a franchisee who owned a lot of stores (clout), but on the trips without planned meetings, the guys played basketball and drank beer together when we were finished.
In those days I didn't drink, and I was an unlikely participant for their basketball game. I was on my own so I focused on work. I spent the time writing up our findings and returning calls. It's hard to imagine, but we didn't have mobile phones then, and if we had, there weren't cell towers in these remote places, so all calls required a landline. I pretty much stayed in my room and responded to any messages from our regional office or franchisees. After all visits were completed, we'd hit the road. We typically returned to the office late and went straight home. (So much for collaboration and team building.)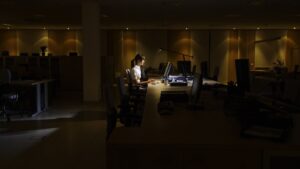 When we took on new Regional Director, things started changing. I had made the mistake of asking him a question during a large meeting that it turned out he couldn't answer. He clearly didn't like me. Soon thereafter, my boss started telling me that I "wasn't a team player". They claimed I didn't spend enough time "socializing" in the office. And of course, the fact that they sent had me home to work three years earlier didn't come up.
The relationships I had developed with my franchisees were strong. They counted on me and I came through. Many times, I wasn't there in person but was a phone call away from starting a chain of responses to get help for a franchisee in need. I was able to straighten out a commissary issue or ask for help from another franchisee just by making a few calls. I don't think anyone ever cared if I was ever actually onsite. They just needed to know that I would respond. I worked from home, from my car and from hotel rooms.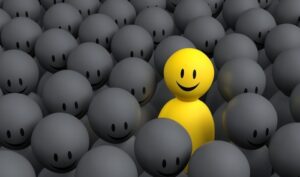 Trips to headquarters were opportunities to meet people across the country. We probably did more socializing and bonding after hours than any time during a normal workday. Our national meetings included team building events sponsored by headquarters that allowed people to mingle, but the real engagement was typically outside of the business agenda.
On one occasion, specifically in June of that particular year, we went to a national meeting of corporate staff and 4500 franchisees. It was about 110 degrees and we were at a resort, complete with several pools and golf courses nearby. In addition to the meeting agenda, the intent was to mingle and build relationships with peers and franchisees across the country.  During the scheduled meetings, franchisees were dressed in almost an identical fashion: Hawaiian print shirts, shorts and flip flops. In contrast, my four male team members wore grey wool flannel suits; complete with FBI issue black oxfords. I wore a yellow linen suit and yellow heels. Although I received a ton of compliments, it didn't go over well with our Regional Director.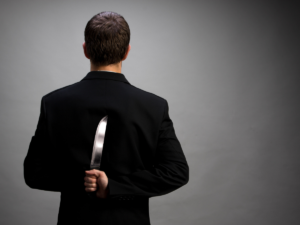 The reaction to being "an outlier" was pretty extreme. Our Regional Director became hysterical and demanded that I go change. Coincidentally, I had recently lost weight and handed down a two-sizes-too-big grey suit to his girlfriend (our office receptionist), who (also coincidentally), had joined him on the trip. He demanded that I go put on that suit (now hers). Of course, I declined. Although I still thought my yellow linen suit was a stretch from shorts and flip flops, it was professional and I felt less "separate" from the franchisees we were meant to engage with. The grey suits clearly enforced "us" vs "them" impression, and no amount of kibitzing in person was going to make up for that image.
Once again they told me that I "wasn't a team player".  And it got worse. Later that week the franchisees nominated both the Regional Director and me for "Corporate Person of the Year." A pleasant surprise for me to be nominated, but that really set him off more. And it got worse. You guessed it, I got the award. Things went downhill from there.
Ultimately, two months later I was let go, even though I had the highest approval rating from those we served and had been making full bonus on all performance criteria. This was my first reality check about what it was like to work in an arena where politics was far more important than performance. I also learned that being in the office was necessary for some reasons to some people, but didn't necessarily translate to collaboration or productivity.
Was the problem really that I worked from home? No, probably not. Was it because I hadn't connected with the people I serve and hadn't developed strong relationships? No, probably not.  Was it because I wasn't visible in the "right" way, with the "right" people? Partly, yes. I think we can safely say anything I did would have seemed politically incorrect, and that was the real issue, not because I worked from home.
Even if you prefer working at home, and the company allows it, the company dynamic could still be all wrong. To work from home or in the office should not be the argument. The real discussion should be about how to create collaboration and build teams.  For the employee, it is about understanding the overall culture of an organization that dictates where you work and recognizing their reason for doing so. Is it political? Or is it truly based on productivity, performance and well-being? Look before you leap. Know what the real company culture is like before you assume anything.